Meer Chinese vrouwen in hogere functies is goed voor de economie.
Uit een recent onderzoek van Grant Thornton blijkt dat China hoog scoort wat betreft het aandeel vrouwen in hogere functies.
In China wordt 51% van de senior managementposities door vrouwen ingenomen. Andere top performers zijn: Letland, Thailand, Vietnam en de Filippijnen.  Deze landen hebben gemeen dat ze allemaal snel groeiende economieën hebben. Verder blijkt uit de cijfers dat economieën met een laag aandeel vrouwen in de top een lage economische groei hebben.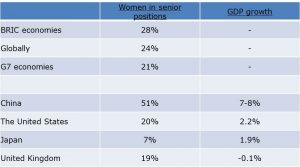 Erica O'Malley (managing partner van Diversity & Inclusion van Grant Thornton) zegt hierover: "It's imperative that businesses in developed economies emulate their emerging market counterparts and reap the benefits of having more women in senior positions."
Ook als het gaat om boardroom posities zien we een soortgelijke situatie. In de snelgroeiende markten zijn vrouwen beter vertegenwoordigd dan in de ontwikkelde markten.

Over het onderzoek
Het onderzoek is gebaseerd op 6.600 bedrijven in 44 landen en bevat zowel beursgenoteerde als niet-beursgenoteerde bedrijven uit alle sectoren. De respondenten zijn bestuurders, CEO's en senior management.
Bron
Grant Thornton International , 2013, "Mature Economies Lagging Behind Emerging Markets in Advancement of Women", Grant Thornton website,  March 8, 2013
<http://www.grantthornton.com/portal/site/gtcom/menuitem.550794734a67d883a5f2ba40633841ca/?vgnextoid=a84cf2e58d84d310VgnVCM1000003a8314acRCRD>
Ming Translations levert de perfecte Chinese vertaling voor al uw communicatiematerialen en documenten. Andere diensten: tolk Chinees, China workshops, cursus Chinees, Chinese voice-over, Chinese ondertiteling en nog veel meer.